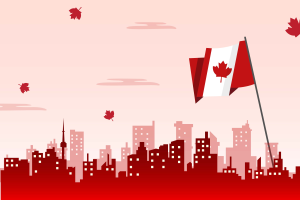 In the latest update, the Canadian immigration department, i.e. IRCC (Immigration Refugees and Citizenship Canada) has revised the Proof of Funds (POF) requirement for Express Entry candidates for this year.
To keep Express Entry profile eligible, all Express Entry candidates need to update settlement fund numbers (as per increased POF requirement) in their respective EE profiles by June 8, 2022.
Updating profile does not change the date and time of the profile registration, hence, your rank will remain the same, in case; you are in a tiebreaker situation.
What is proof of funds and who needs it?
The POF (Proof of funds) is the definite amount you need to show IRCC to convince them that you have sufficient funds to settle in Canada. Once you get Invitation to Apply (ITA) from IRCC, you must provide written proof that you have this money. The POF requirement depends on the size of your family.
Who needs POF?
You need proof of funds to meet the minimum requirements of the
Federal Skilled Worker Program (FSWP)
Federal Skilled Trades Program (FSTP)
Updated Proof of Funds Requirement Table as of 9 June 2022
| Number of family members | Funds required (in Canadian dollars) |
| --- | --- |
| 1 | $13,310 |
| 2 | $16,570 |
| 3 | $20,371 |
| 4 | $24,733 |
| 5 | $28,052 |
| 6 | $31,638 |
| 7 | $35,224 |
| For each additional family member | $3,586 |
Also read- FSW draws opening in July- Submit your Express Entry profile early to get advantage
What IRCC accept as Proof of Funds?
For POF, an applicant need to get official letters from any banks or financial institutions where his/her money is kept.
Letter(s) must
be printed on the financial institution's letterhead
include their contact information (address, telephone number and email address)
include your name
list outstanding debts such as credit card debts and loans
include, for each current bank and investment account, the

account numbers
date each account was opened
current balance of each account
average balance for the past 6 months
FSW/CEC draws to resume in July
In another crucial update couple of weeks back, the Canadian immigration Minster has confirmed that IRCC (Immigration Refugees and Citizenship Canada) is going to restart the all-program draws of federal Express Entry System to invite candidates under FSW (Federal Skilled Worker) and CEC (Canadian Experience Class).
Hence, if you wish to move to Canada on PR visa in 2022-23 this is the best time to prepare your immigration file and apply for Canadian PR Visa through Express Entry or Provincial Nominee Program (PNP).
To check your eligibility and apply for PR visa in Canada, you may contact Visas Avenue Canada immigration advisor and expert on Toll-Free-Number- 78-18-000-777. Alternatively, you can drop us an e-mail at info@visasavenue.com.