Proficiency in the English language is must if you are planning to live, work or study in any English speaking country, i.e. Canada, Australia, USA, UK, New Zealand, Germany, etc. It's not just compulsory, but also beneficial for you, as your admirable performance in an approved English language test, also benefits you in your Study, PR, or work visa application.
IELTS & PTE - The globally Accepted English language tests
IELTS (International English Language Testing System) and PTE (Personal Test of English) are two of the most popular and globally accepted English proficiency tests.
Both these tests conduct their exams periodically throughout the year and issue the test result to the students, which they can show to the respective authorities for verification. If you want to get in person or online IELTS coaching or PTE coaching, you may contact Visas Avenue.
IELTS and PTE for Canada and Australia immigration
Canada and Australia are two of the most popular immigration destinations in the world. Let us find out how, which English test you need for immigration to these countries
Australia- To apply Immigration to Australia (through PR visa, skilled visa, study visa, etc.), you can provide PTE (Academic) and IELTS (General/Academic) Test.
Canada- For immigration to Canada, you can provide IELTS General only as PTE is not accepted by Canada as of now.
If you want to get in person or online IELTS coaching or PTE coaching, you may contact Visas Avenue.
IELTS
PTE
IELTS (International English Language Testing System) is widely popular English language proficiency test recognized by immigration authorities sand educational institutions of Canada, Australian, New Zealand and most other advanced nations. IELTS test has two versions, i.e.
PTE (Personal Test of English) is a popular English proficiency test. PTE is accepted by most advanced nations for study permit and immigration. Moreover, like IELTS, the PTE test also has two versions for students and work visa or immigration applicants, i.e. 

IELTS Academic (for study abroad)

PTE Academic (Usually for study abroad), but you can apply for Skilled visa, PR visa, study visa, etc. in Australia)

IELTS General (for immigration to an overseas country)

 

 

PTE General is accepted by different universities and ministries of education in the world

 
Prepare for IELTS and PTE Exam with Visas Avenue
At Visas Avenue, our certified trainers provide in person as well as online classes for IELTS and PTE coaching, to make you ready for upcoming tests. We are one of the best institution that offers online as well as in person PTE and IELTS coaching in Delhi NCR.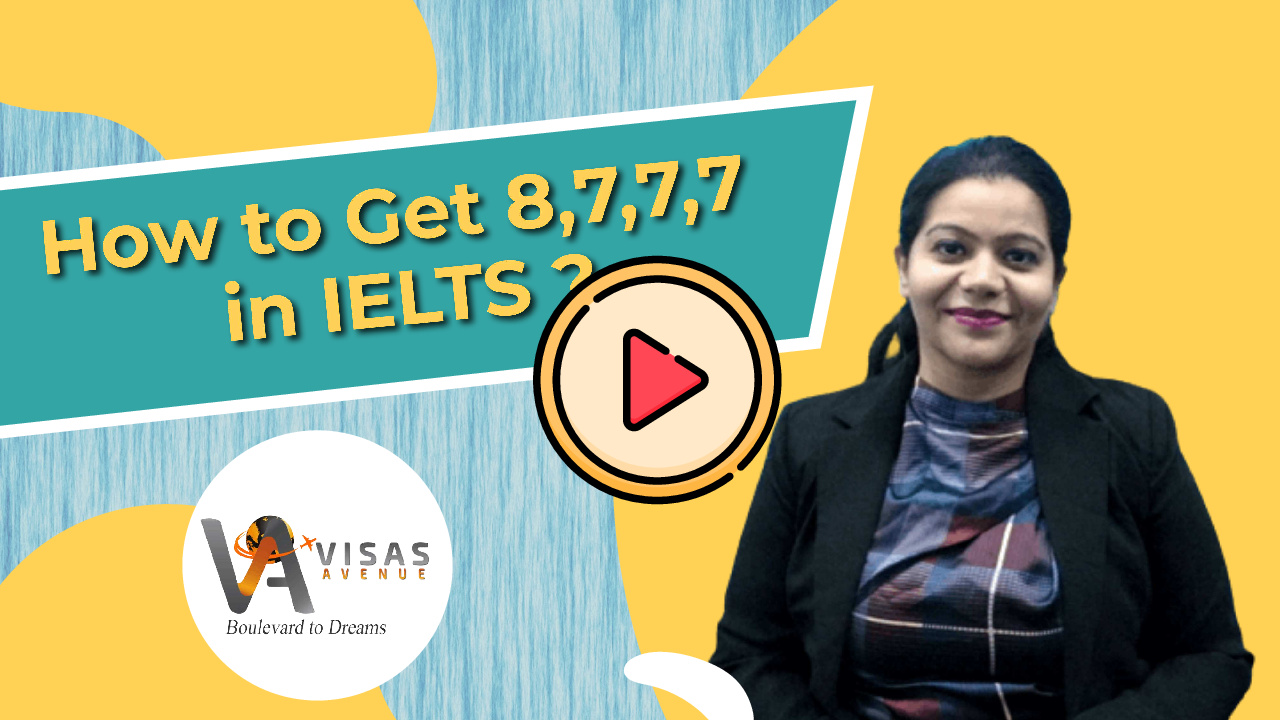 Also read- What is IELTS Band requirement for Canada Immigration?
Key features of our IELTS/PTE Coaching
Online/ Classroom training
Flexible schedule of classes
Booking of Examination date for the applicant
Batches available for weekend/weekdays
Video Tutorial
Practice Test
Mock Test
Practice Booklet
We thoroughly prepare you for all four aspects or abilities of the English language test, i.e.
Speaking
Listening
Reading
Writing
This comprehensive focus on each ability makes certain that you score maximum points for each component of the English test and consequently, get high band score in the final test.
Even if  you are well versed with the English language or good enough in speaking English, that's not enough, when  you are applying skilled visa or study visa in an overseas country, where English is an official language.
Why choose us
The IELTS/PTE trainers at Visas Avenue are highly qualified, competent and professional, with years of experience in language teaching/training. You get a comfortable learning environment with separate doubt clearing sessions. Here are a few key reasons to start your IELTS or PTE coaching classes in Delhi/NCR or online with Visas Avenue:
Certified Trainers
Benefit of availing Visa consultancy service for study or immigration overseas
Trusted brand
High Quality Learning
Facility of booking of Examination date
Well Planned course structure
Flexible classes
Personalized Course material
Modern infrastructure and space for Classroom training
Innovative training methods
We not only focus on helping you pass the language test with excellent scores, but also strive upon the development of your personality and confidence level so that you remain a step ahead from your competitors as a professional. Visas Avenue is also an Immigration Advisor, hence, if you choose to apply Canada or Australia PR visa through us, you can avail the handsome discount on PTE or IELTS Coaching.
Also read- What is IELTS Requirement for Australia Immigration?
Significance of English Language test for overseas study or immigration
If you wish to apply for study or skilled visa in your destined country, you must provide an English language test result, which is approved or recognized by the immigration authority in that particular country.
Our English Classes Emphasize on
Clarity and fluency of Spoken English
English Grammar
Voice & Accent Training
Business English/Corporate communication
Building of Vocabulary
Active Communication
Confidence Building
How to get Discount on IELTS/PTE Coaching at Visas Avenue
If any individual, choose to enrol with Visas Avenue to apply for Study or PR Visa in Canada or Australia, he/she can avail the striking discount on IELTS or PTE coaching.
About Visas Avenue
Visas Avenue is a well-known and registered Visa Consultancy Company with its branches all over India, i.e. New Delhi, Noida, Mumbai, Pune, Bangalore, Chennai and Hyderabad. Here are the key services Visas Avenue team offers:
Profile assessment for Overseas Immigration
Selection of right visa program to apply
Calculation of immigration points
Helps you in filing visa application
Provides IELTS/PTE training (online/classroom)
Assistance for Study Abroad
Visa application follow up, etc.
Visas Avenue every year helps thousands of people apply and obtain Permanent Residence visa, Skilled Visa, Study Visa, Tourist Visa, Family Sponsored Visa, etc. for their destined countries with an outstanding success rate of over 95 Percent. We work in association with ICCRC and MARA members to provide genuine and trusted visa assistance to the interested applicants.
You need to Score good in Academic or General Test
For study abroad purpose, you need to pass the Academic test for English proficiency and for skilled visa or immigration, you need to pass the General Test for English proficiency with required level of band score. In both tests you need to attain good band score to get crucial points for the same while applying study or skilled visa.
If you are well prepared in advance for the IELTS or PTE test, your chances of scoring excellent band score will certainly improve and hence, you will get benefit of the same while applying visa.
Hence, if you are willing to start your PTE/IELTS coaching classes with Visas Avenue, you can simply call us on our Toll Free No. 78-18-000-777.
You can also fill the free assessment form here to get a call back from our expert.
Alternatively, send us an e-mail at info@visasavenue.com.