Wish to study in Canada? We have all the answers to the top questions, including the top Canadian colleges, how much it will cost to study in Canada, the best courses available and how you can apply for a Canadian study permit, leading to obtaining a Canada PR visa.
It's not a surprise that Canada ranks third in welcoming international students. With its world-class educational system, welcoming communities, affordable living costs and French and English learning options, Canada is a popular choice among international students.
Many students start their path to Canadian permanent residency and eventually attain citizenship through Canada's post-secondary education. What begins as a dream to avail of world-class education ends in falling in love with every bit of Canada.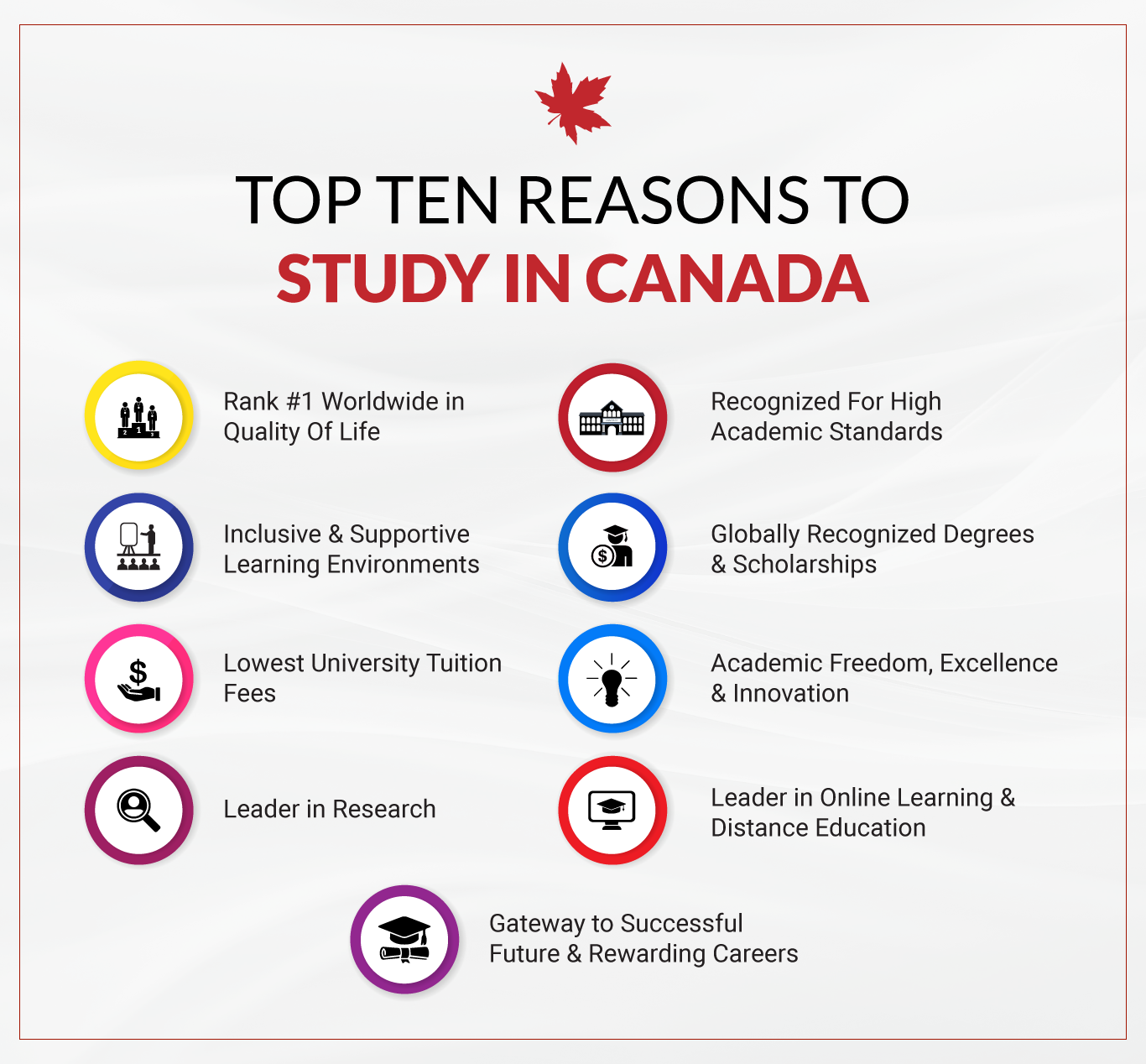 What are the top 10 colleges in Canada?
Canada has a wide range of post-secondary education institutions. Thus, while planning your higher studies in Canada, you must search for the best college or institution across Canada. You can search based on the subject or category you are interested in, overall costs involved and more.
Here's a list of the top ten most recognized Canadian universities and colleges to help you get started with your quest:-
Kings University College- International students dream of being a part of the Kings University College for its academic excellence, practical learning approach, lively campus, and more.
Cape Breton University - It is one of the most popular public universities in Canada. The university bagged 6th ranking overall in 2021 for student satisfaction.
Nipissing University-Known for academic excellence, Nipissing is one of the highest ranked universities in terms of education quality.
Algoma University- It is among the highest-ranking Canadian universities and offers the endless opportunities for personal and professional growth.
Yorkville University- Listed among the top 100 universities globally, Yorkville offers the best internationally recognized degree programs.
Crandall University
University Canada West
Trinity Western University
Vancouver Island University
Royal Roads University
Click here for complete list of popular Canadian colleges and universities.
Scholarships to Study in Canada in 2022
Canada offers a plethora of scholarship opportunities for deserving international students. The options are available depending on the student's field of study or research and their country of residence and origin.
Here are a few popular government-funded scholarships for International Students:-
Shastri Indo-Canadian Institute
Canadian Commonwealth Scholarship and Fellowship Plan
Ontario Graduate Scholarship Program
National Research Council of Canada (NRCC)
Quebec Provincial Government Scholarship
Ontario Trillium Scholarship
Partnership Grants by Social Sciences and Humanities Research Council of Canada
Banting Postdoctoral Fellowships
Vanier Canada Graduate Scholarships
Please note, given the current pandemic situation, there might be a few changes in the scholarship programs.
Eligibility Requirements to Study in Canada
Admission criteria majorly depend on the academic institution and study program you choose. However, there are a few basic eligibility requirements for one and all.
At least Grade 12 (50% & above in Academics)- To enroll on Undergraduate Study Program
At least Graduation Degree (55% & above in Academics)- To enroll for a Postgraduate Study Program
At least 6.0 overall IELTS bands OR 89 in TOEFL OR Overall 56 in PTE
At least 16 Years of Education (10+2+4) or equivalent (65% & above in Graduation)- To enroll in a Master's Degree Program
Relevant work experience and a GMAT score of 550 range- To enroll in an MBA program *Conditions Applicable*
How much does it cost to study in Canada?
When deciding where to study, the overall cost of living is an essential factor to consider. Studying in Canada has always been affordable for international students. In addition, the tuition fees in Canadian colleges and universities are comparatively lower than those in other developed nations like Australia, the U.K. and the U.S.
Study costs in Canada for international students:-
| | |
| --- | --- |
| Options | Tuition Cost (CAD) |
| Postgraduate Degree Program  | $12,000 to $36,000 per year |
| Undergraduate Degree Program | $1,600 to $40,000 per year |
Top Courses to Study in Canada
Canadian education is recognized worldwide and opens doors to endless employment and business possibilities. No matter which study program you choose, Canadian education institutions offer the suitable options.
Here are the top courses to study in Canada in 2022:-
Artificial intelligence (AI)
Regular & Executive MBA programs

Banking and finance
Entrepreneurship
International affairs
International business
Government

STEM Program (Science, Technology, Engineering, Math)
Biosciences, Medicine & Healthcare
Agricultural Science & Forestry
With endless opportunities across Canada, it is no surprise that tens and thousands of international students move to Canada to pursue higher education.
Suppose you, too, desire to study in Canada and have questions like how to apply for a Canada student visa, how to get admission, how to manage finances and more. In that case, you may talk to our academic counsellor and visa advisor on Toll-Free No. 78-18-000-777 or drop an email at info@visasavenue.com.
Canada Study Visa – Frequently Asked Questions
Can I Work While Studying in Canada?
Yes, you can work in Canada on a study permit. You can work part-time for up to 20 hours a week during your school terms and full-time during your summer vacations.
Can I Bring My Family to Canada while I am Studying?
Yes, if you are married or have children, you may include them in your study permit application, and the best part is that if approved, your spouse can also work in Canada, and dependent children can study for free in a public school.
Does Canada cover International Students under its healthcare system?
Yes, Canadian healthcare coverage is provided to all the international students studying in Canada.
Can I stay in Canada after completing my studies?
Canada makes it relatively easy for overseas students to apply for Canada PR Visa if they wish to stay in the country after graduation. You can apply for Post-Graduate Work Permit (PGWP) and work for three years.
GET ENROLLED IN AN APPROPRIATE STUDY PROGRAM, TODAY!
Choose the best Canadian university and course to study in Canada.