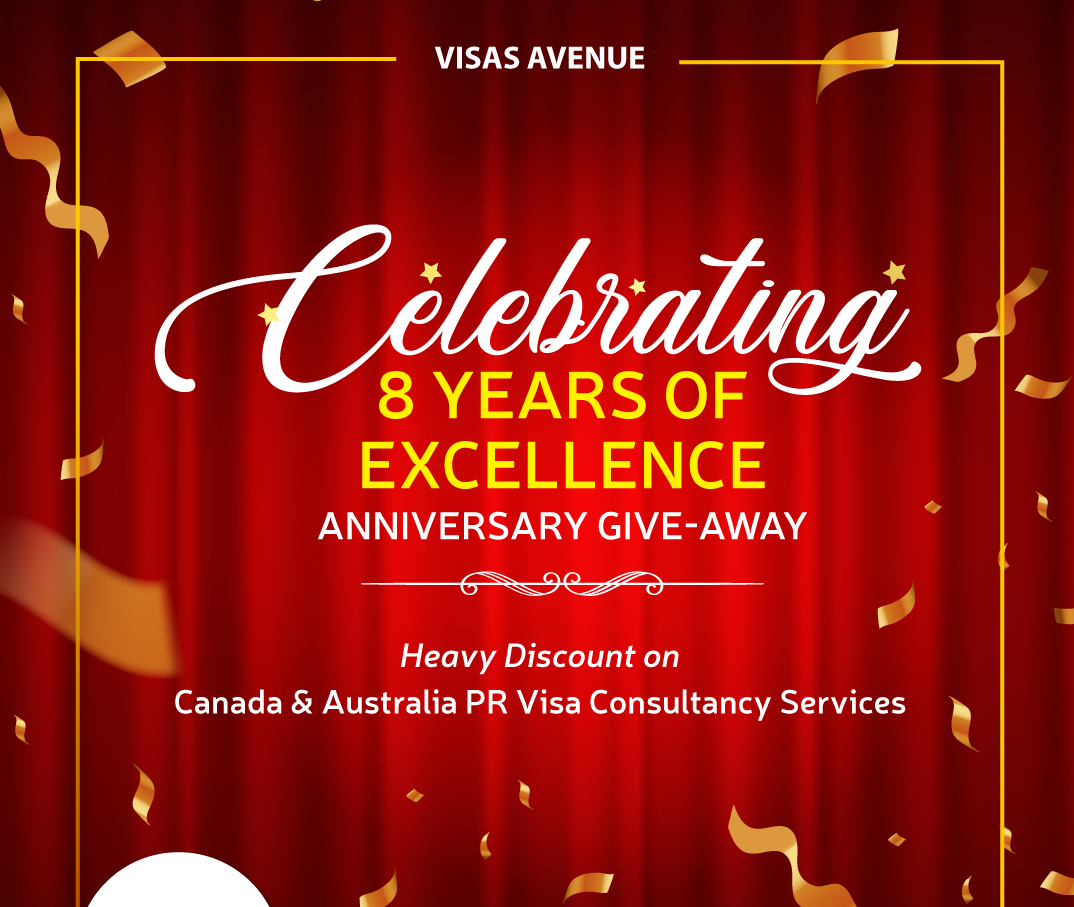 Visas Avenue has completed eight amazing years of its journey and spirit of fulfilling the overseas immigration dream of several families and individuals. Today, thousands of Visas Avenue clients, i.e. skilled professionals, students, and travellers, etc. are successfully settled in Canada, Australia, etc. countries. Every year adds one more feather in the cap for Visas Avenue in terms of a new milestone achieved.
To continue this mission and ambition in the year 2022, Visas Avenue has planned to help at least 1,000 visa aspirants next year to make their dream come true.
To achieve this milestone, Visas Avenue is offering a fabulous anniversary discount on its Canada/Australia PR consultancy services.
What is the offer?
If you apply for Permanent Resident (PR) visa in Canada or Australia through Visas Avenue between 4 and 7 December 2021, you will get a remarkable discount on Visas Avenue Visa Consultancy services for immigration to Canada/Australia on Permanent Resident (PR) visa.
Specialized in Canada/Australia Immigration
Visas Avenue has vast experience and expertise dealing in immigration and PR visa process of Canada and Australia. Hence, through this process experience and expertise of Visas Avenue team, you can eliminate the possible errors and enhance your chances of visa success. The key Canadian visa programs and procedures VA team deals in are as follows:
Federal Express Entry System
Stepwise process for Canadian Permanent Residency (PR)
CRS (Comprehensive Ranking System)
Federal Skilled Worker (FSW) program
Provincial Nominee Programs (PNPs), i.e. SINP, OINP, AINP, MPNP, etc.
Required documentation, i.e. ECA, IELTS test result, etc.
It is also accustomed with popular Australian visa categories/programs, i.e.
General Skilled Migration Program (GSM) visas, i.e.

Skilled Independent Visa Subclass 189
Skilled Nominated Visa Subclass 190
Skilled Work Regional (Provisional) Visa Subclass 491

Online Skillselect System
Stepwise process for Australian Permanent Residency (PR)
Skilled Occupation Lists of Australia
Required documentation, i.e. Skill Assessment, IELTS test result, etc.
What are the Immigration Services you will get with a great discount?
Find below the key Immigration services offered by Visas Avenue team:
Pre-assessment of your Visa Application
Individual Session with Immigration Specialist
Immigration Points calculation
Submission of EOI Profile
Filing the Visa Application
Visa Application monitoring and follow up
IELTS/PTE/TCF Coaching
Session about post-landing activities
Why choose Visas Avenue?
The Visas Avenue is a leading and trusted Immigration Consultancy Company in India associated with ICCRC and MARA members to offer reliable visa solution and services to visa applicants. Here are a few key reasons to choose your immigration partner/mentor:
Your application is reviewed and processed under the guidance of an ICCRC/MARA member
Visas Avenue has success rate of over 95% for obtaining the client visa approvals
200 plus headcounts, including more than 100 client service managers
7 Visa Consultancy offices across India
Brings in almost a decade of experience in the immigration industry.
To know more and subscribe for this discount offer, please send us an e-mail showing your intent to our official e-mail id info@visasavenue.com or you may call us on our Toll Free No. 78-18-000-777.
Hurry! The offer is valid for a limited period!