After just one week of the first Express Entry draw of the New Year 2023, the IRCC has opened the second Express Entry draw of the year as well. This latest all-program Express Entry draw took place on 18 January 2023 to issue 5,500 invitations to apply for Canadian Permanent Residency (PR) Visa yet again. Find out more.
Latest Express Entry draw on 18 January
This is overall Express Entry draw #238, wherein the IRCC has invited 5,500 candidates. The Immigration Refugees and Citizenship Canada (IRCC) has dropped the CRS (Comprehensive Ranking System) score requirement significantly in this draw to just 490 CRS points, from 507 points in the previous EE draw.
All- program Express Entry Draw on 18 January 2023
| Date | EE Category | No. of ITAs | Minimum CRS Score Requirement | Tie-breaking rule |
| --- | --- | --- | --- | --- |
| 18 January 2023 | All Programs | 5,500 | 490 | November 24, 2022 21:14:59 UTC |
Click here to see the complete list of Express Entry draws until date
Now, in just two Express Entry draws held this year (until 18 January 2023), the IRCC has invited total 11,000 candidates to apply for the Canadian Permanent Residency (PR) Visa, which is an incredible number.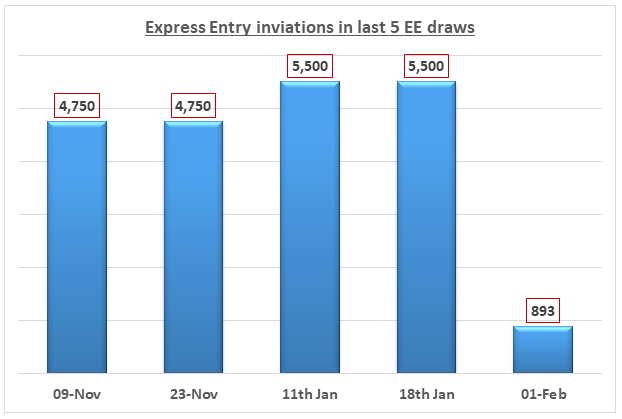 EE Draw Analysis
The Immigration Refugees and Citizenship Canada (IRCC) has a target to accept 82,880 candidates through federal Express Entry System out of the total 465,000 planned admissions for 2023. Considering the start of the year, the IRCC seems well on the road to achieve or even exceed this target.
The substantial drop in CRS score requirement is also an encouraging sign for the Express entry candidates waiting since long for the drop in the CUT OFF. The CRS score is now 490 points for this latest draw, and it is expected to drop further in the upcoming draws. Overall, its ideal scenario for the aspirants looking to immigrate to Canada this year on Skilled PR visa.
Also read-
IRCC conducts First Express Entry draw of 2023- Invites Record 5,500 candidates
Alberta released results of latest AAIP draw– CRS score requirement 305 points
Alberta signs a MOU to promote Alberta-India education & attract more newcomers from India
Ontario Invites 1,656 candidates for skilled trades & Foreign Worker stream in Opening draws of 2023
To confirm latest immigration updates and apply for immigration to Canada on PR visa this year through best immigration program, you may contact Visas Avenue trusted Visa Consultant and Advisor on Toll-Free No. 78-18-000-777 or e-mail at info@visasavenue.com.