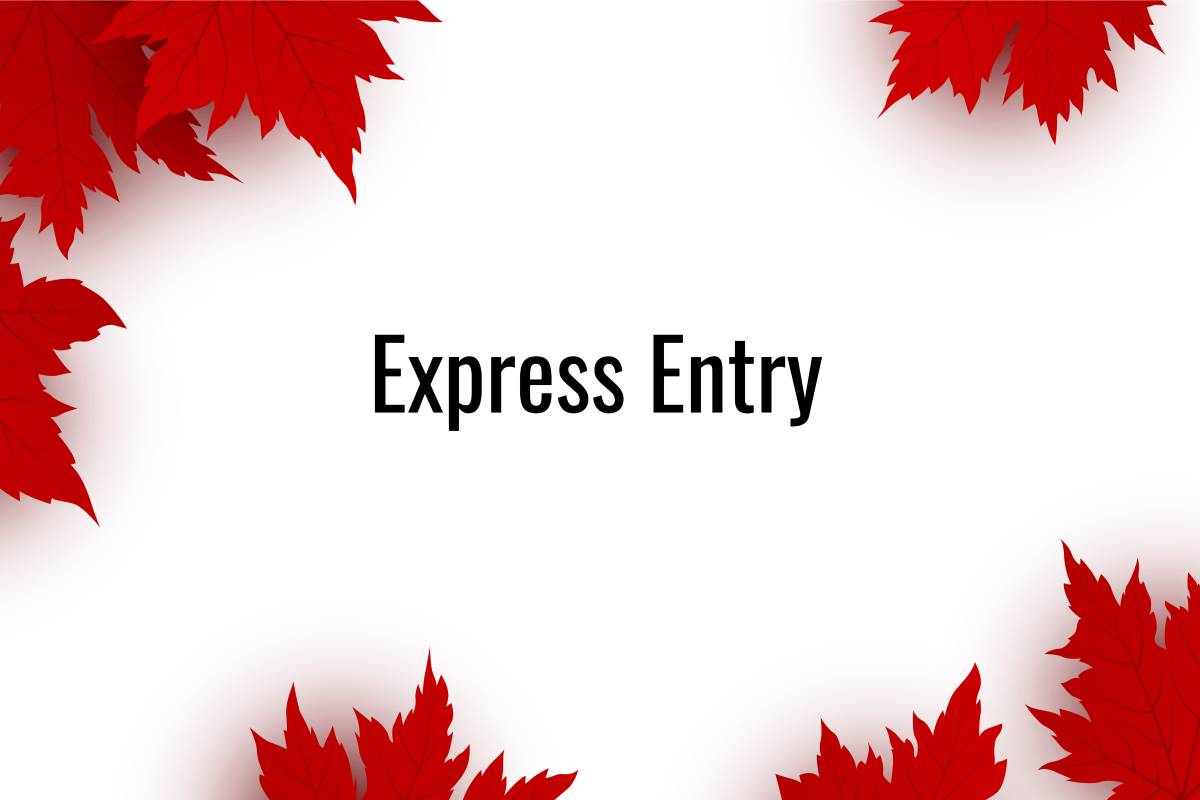 The IRCC has finally conducted the first express entry draw of the year 2023 on 11 January 2023. This is the first EE draw since November 23, 2022, as there was some pause due to a glitch. Now, the IRCC is back with a biggest all-program Express Entry draw ever, wherein it has issued 5,500 invitations to apply for Canadian PR (Permanent Resident) Visa.
Although, the IRCC has once invited record 27,332 candidates in EE draw occurred back on 13 February 2021, however, that was program-specific draw for CEC (Canadian Experience Class) category only and was not an all-program draw.
Express Entry draw on 11 January 2023
In the Express Entry draw #237, the IRCC has invited record 5,500 all category express entry candidates to apply for Permanent Resident (PR) Visa. This is the highest number invitations ever issued by Immigration Refugees and Citizenship Canada (IRCC) for any all-program draw. The CRS (Comprehensive Ranking System) score requirement in this draw was 507 points.
All- program Express Entry Draw on 11 January 2023
| Date | EE Category | No. Of ITAs | Minimum CRS Score Requirement | Tie-breaking rule |
| --- | --- | --- | --- | --- |
| 11 January 2023 | All Programs | 5,500 | 507 | December 06, 2022 11:00:07 UTC |
Click here to see the complete list of Express Entry draws until date
Last year, the Immigration Refugees and Citizenship Canada (IRCC) invited 46,538 candidates to apply for Canadian PR visa in overall 24 Express Entry draws conducted in 2022.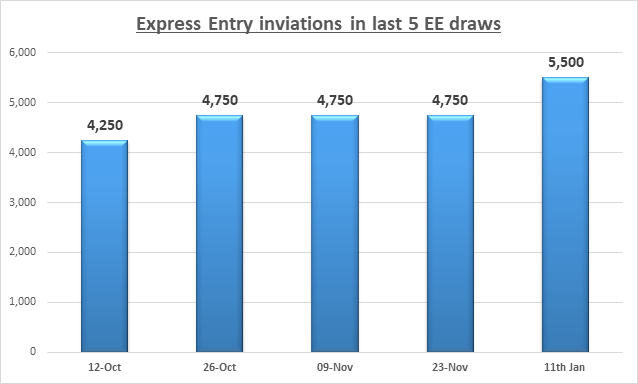 EE Draw Analysis
Well, the draw result in the 11th January draw was quite expected. Since this is the first draw since 23rd November 2022, therefore, the number of new registered Express Entry candidates between 23rd November and 11 January 2023 (almost 7 weeks) is significantly high.
With the arrival of new profiles in the EE system, the CUT OFF once again increased to 507 points. The number of invitations are also high for the same reason. However, after few initial draws, the CUT OFF is expected to fall again to the convenience of all registered candidates.
This year, Canada has target to invite 465,000 new permanent residents and economic programs such as, Express Entry and PNP has the largest share among all categories. Hence, it the prefect time to apply for Canadian PR visa for the aspirant among easing immigration requirements and improving process by the government of Canada.
Also read-
The IEC program is now open to accept global youth to Canada
Employment in Canada rose by 104,000 -Labour Force Survey, December 2022
Key pathways, process and requirements to apply for Canadian PR visa this year
Moving to Canada in 2023 on PR Visa? Find out key things you must know
To check your eligibility and apply for Canadian PR visa through Express entry or any other relevant immigration program this year, you may contact Visas Avenue trusted Canada Migration Expert on Toll-Free No. 78-18-000-777 or e-mail at info@visasavenue.com.