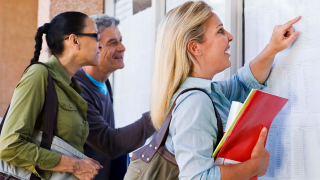 As per the latest data released by the Australian Bureau of Statistics (ABS), Australia's population increased by 2.2 percent, achieving the mark of total of 26.5 million individuals in the 12 months ending on March 31st of this year. 
In this statement, the head of demography at ABS, Beidar Cho, said that in the year up to March 2023, 81 percent of this growth was credited to net overseas migration, which added 454,400 people to the population, occurring 13 months after the reopening of international borders post the global pandemic.
Significant surge in Net overseas migration
This amazing upsurge in net overseas migration was fuelled by a substantial increase in arrivals, which saw a 103 percent upswing from the previous year, totalling 681,000. On the other hand, there was only a modest 8.8 percent surge in the number of overseas migrant departures, totalling 226,600. This pattern, particularly the low number of departures, is a result of the catch-up effect following the shutting of international borders during the pandemic. This effect is expected to be temporary, as departures are expected to rise in the future, chiefly when temporary students start leaving in more typical numbers.
Also read- How to apply for immigration to Australia from India?
Key statistics released by Australian Bureau of Statistics (ABS)
Statistics in this release are normally known as Estimated Resident Population (ERP).
Australia's population was 26,473,055 people at 31 March 2023.
The quarterly growth was 181,600 people (0.7%).
The annual growth was 563,200 people (2.2%).
Annual natural increase was 108,800 and net overseas migration was 454,400.
The natural rise in population amounted to 108,800 people, marking an 18.5 percent decrease from the past year.  
State wise population growth
When it comes to population growth by state, Western Australia showed the fastest growth rate at 2.8 percent, followed by Victoria at 2.4 percent and Queensland at 2.3 percent. Victoria saw the biggest surge in its total population, with 161,700 additional residents, slightly surpassing New South Wales, which added 156,300 people.
| | | |
| --- | --- | --- |
| States | Population at 31 March 2023 ('000) | Change over previous year (%) |
| New South Wales | 8294 | 1.9 |
| Victoria | 6766.6 | 2.4 |
| Queensland | 5418.5 | 2.3 |
| South Australia | 1844.6 | 1.6 |
| Western Australia | 2855.6 | 2.8 |
| Tasmania | 572.7 | 0.4 |
| Northern Territory | 251.7 | 0.9 |
| Australian Capital Territory | 464.6 | 2 |
| Australia (a) | 26473.1 | 2.2 |
Australia is one of the best countries for immigration aspirants
In the recent best country ranking survey released by US News and World report, Australia ranked as the 4th best country in the world based on overall parameters, i.e. Quality of life, Power, Open for Business, Movers, Agility, Green Living, Racial Equality, Cultural Influence, etc.
Australia is a top immigration destination due to its robust economy, high-quality healthcare, outstanding education system, and diverse cultural landscape. Its welcoming immigration policies, political stability, and natural beauty also make it an appealing destination. Moreover, Australia's emphasis on work-life balance and outdoor recreational opportunities further improve its appeal as an ideal destination for immigrants looking to live, work or settle in an advanced nation permanently.
Also read-
Australia has announced to revise the financial capacity requirement for Student visas
Canadian PNPs invited 2,729 immigration candidates in 2nd week of Sept 2023
New BC PNP targeted draw took place on 12 September to invite 183 immigration candidates
New Arrima Draw of Quebec has issued 1,433 invitations for permanent selection
To apply for PR visa, skilled visa, visitor visa, or study visa in Australia this year, you may contact Visas Avenue Australia qualified and trusted migration expert on Toll-Free No. 78-18-000-777 or you can drop us an e-mail at info@visasavenue.com.