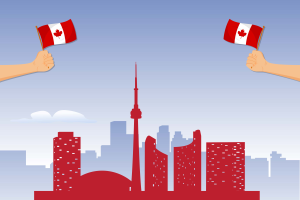 On January 23, 2023 Canadian immigration minster, Sean Fraser, along with a group ministers and officials announced that Canada has attained its target of 4.4% of French-speaking immigrants outside Quebec in the year 2022. It is the largest number of Francophone Newcomers accepted by Canada since 2006.
Immigration is a key aspect of the maple leaf country and shows the cultural variety that shapes its identity. The contribution of Francophone immigration is unquestionable considering the fact that it enhances the linguistic, demographic and economic feature and aspects of Francophone communities.
Achieved francophone immigration target in 2022
In last one year, over 16,300 new immigrants have settled in Francophone minority communities all over the country.  This is the highest number of French-speaking immigrants outside Quebec that Canada has received since the data commenced to be recorded. These new immigrants play significant role in the development of those communities outside Quebec and in the diversity of Canada's cultural and linguistic landscape. They also help strengthen the economy of the communities wherein they have settled.
Speaking about this accomplishment of Target, Minister Fraser said, "Today, we are showing that Francophone immigration is at the heart of the values that make Canada rich, both culturally and through the distinct character of its 2 official languages. We have achieved our target. It is a significant milestone and reflects the importance and contribution of French-speaking immigrants to the vitality and development of Francophone communities outside Quebec. We will continue to welcome French-speaking immigrants to ensure the viability of these key communities that are helping to shape the future of our country."
By meeting above target, Canadian government has proved that it supports the enhancement and vivacity of Francophone minority communities. The accomplishment also means that those newcomers are making a greater contribution to endorsing the French language and addressing the labour shortage across the nation.  
As per the government, Canada is continuing its work on Francophone immigration outside Quebec, a key priority in the years ahead. The government reiterates its commitment to endorse population growth and economic success and is presently developing a Francophone immigration policy that will reinforce and guide the work.
Significance of French Language in Canada immigration
If your primary language is English, learning French as second language can help raise your total CRS (Comprehensive Ranking System) points in federal Express Entry System. The Immigration Refugees and Citizenship Canada (IRCC) provides the additional CRS points to the applicants based on their proficiency in secondary language, i.e. the French language.
Also read-
Heavy Equipment Operators Are Now Eligible for Canada Express Entry Immigration
Prince Edward Island has issues 223 ITAs in first PEI PNP draw of 2023
Alberta has announced changes to AAIP- Express Entry Stream Criteria for 2023
Excellent week for Canadian PNPs- Nearly 2,320 Immigration Invitations were issued this week
To know more and apply for immigration to Canada on Permanent Resident (PR) Visa this year, you may contact Visas Avenue Canada migration expert on Toll-Free No. 78-18-000-777 or you can drop us an e-mail at info@visasavenue.com.