Leaving the chaos of the pandemic days behind, now, the Canadian Immigration department, i.e. Immigration Refugees and Citizenship Canada (IRCC) is regularly holding all-program Express Entry draws and inviting the significant number of candidates to apply for Canadian Permanent Residency (PR) Visa. Even more good news is the CUT OF or CRS (Comprehensive Ranking System) score requirement in Express Entry draws is dropping constantly, while the number of ITAs (Invitations to Apply) highest ever in most draws.  Let's take a look at the prediction for upcoming Express Entry draws, based on the latest EE draw trend.
Express Entry draw trend in 2023
As of now the IRCC, invites applicants based on their CRS score only. However, the upcoming draws are expected to be occupation-specific draws, which will target applicants based on their job skills and experience instead of their CRS score alone, which might result in a comparatively lower CRS score requirement. Hence, the dependence on CRS score won't be there. In fact, we may see the occupation based and CRS based draws opening in tandem. Let's take a look at the Express Entry draw prediction to find out, what can be the CUT OFF in forthcoming EE draws.
Prediction of CRS score in upcoming Express Entry draws 2023
Federal Express Entry System started the year with a CUT OFF or CRS score requirement of 507 points, which was quite high for the Federal Skilled Worker (FSW) applicants. However, the IRCC reduced the same draw after draw constantly and the CRS score requirement in latest Express Entry draw held on 26 April 2023 was just 483 points. In the most recent program-specific, i.e. PNP only Express Entry draw, the CRS score announced by IRCC was 691 Points.  Overall, in the year 2023, the CUT OFF is hovering around 480s since long.
However, considering the increased number of ITAs being issued in every draw and consistently dropping CRS score, the CUT OFF is likely to drop further to 470-475 points from Immigration Refugees and Citizenship Canada (IRCC) in the upcoming express entry draws.
If this happens, increased number of candidates may further get ITA with relatively low CRS score. Moreover, the occupation based EE draws may also invite candidates with reduced CRS point score as the priority in such draws will be the occupation of the candidate.
Hence, if you are an aspirant of Canadian Permanent Resident (PR) Visa, this is the best time to apply for the same with constant drop in qualifying score to get the ITA (Invitation to Apply) for PR Visa from IRCC.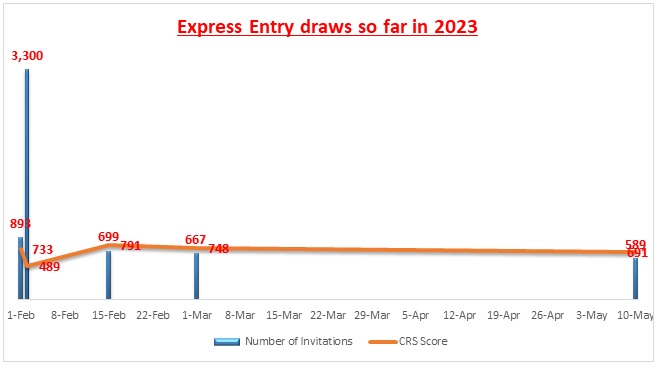 The IRCC also conducted the program-specific EE draws this year on 1st Feb, 2nd Feb, 15 Feb, 1st March, and 10th May 2023 to invite a few specific category candidates, i.e. PNP/ FST/CEC/FSW, etc.
Understanding Express Entry Comprehensive Ranking System (CRS)
It is a merit-based selection system used by the Immigration, Refugee, Citizenship Canada (IRCC). The Canada's immigration  authority assign a CRS score out of 1200 to each applicant who enters the Express Entry pool under all three programs, including the Federal Skilled Worker Program, Federal Skilled Trades Program and Canadian Experience Class.
Point Allocation under Comprehensive Ranking System (CRS)
In order to rank candidates, the IRCC assigns a CRS score to each applicant in the EE pool out of 1200, which includes:
Core: Up to 600 points
Skills and experience factors
Spouse or common-law partner factors, such as their language skills and education
Skills transferability, including education and work experience
Additional: Up to 600 points
Canadian degrees, diplomas or certificates
a valid job offer
a nomination from a province or territory
a brother or sister living in Canada who is a citizen or permanent resident
strong French language skills
If your CRS score is low in Express Entry, you can apply to a Provincial Nominee Program and increase your CRS point score by 600 CRS points.
To get complete assistance concerning applying for Canada PR and increasing your point score through the best PNP, you may contact Visas Avenue- the trusted Immigration Advisor for Canada.
To start your process with the VA team, you may call on Toll-Free No. 78-18-000-777 or fill out the Free Assessment form to get a call back from the expert.